PALGRAVE STUDIES IN INTERNATIONAL RELATIONS
Palgrave Studies in International Relations, published in association with European International Studies Association, provides scholars with the best theoretically-informed scholarship on the global issues of our time. The series includes cutting-edge monographs and edited collections which bridge schools of thought and cross the boundaries of conventional fields of study.
Editorial Information
Mai'a K. Davis Cross, Northeastern University, USA, and University of Oslo, Norway
Benjamin de Carvalho, Norwegian Institute of International Affairs (NUPI), Norway
Shahar Hameiri, University of Queensland, Australia
Knud Erik Jørgensen, Aarhus University, Denmark, and at Yaşar University, Turkey
Ole Jacob Sending, Norwegian Institute of International Affairs (NUPI), Norway
Ayşe Zarakol, University of Cambridge and a fellow at Emmanuel College, UK
50% discount on PSIR for all EISA members
Please contact EISA Office at info@eisa-net.org in order to get a discount code
For more PSIR books, please click here
Guicciardini, Geopolitics and Geohistory
Author: Wiliam Mallinson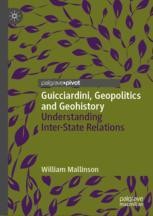 This book demonstrates that geohistory is a more effective concept than geopolitics in understanding inter-state relations, at a time of considerable confusion in world affairs, and that Francesco Guicciardini's thoughts are an efficient medium to demonstrate not only the inadequacies of geopolitics, but that a geohistorical approach can be a more responsible way of understanding international affairs. The book introduces a fresh approach, based on the individual, on which corporate characteristics and behaviour depend, often in the shape of state interests, which are unable on their own to predict actions driven by human behaviour. The book shows how show mainstream international relations theories are stuck in paradigms, inadequate in explaining why world politics is moving in a direction that nobody could predict even a decade ago. It shows how ideology can blur clear understanding. In short, it represents a new and intellectually refreshing approach and method in understanding, and tackling, the vagaries of relations between states.
Get the book here
The Politics of  Translation in International Relations
Editors: Zeynep Gulsah Capan, Filipe dos Reis, Maj Grasten
This volume concerns the role and nature of translation in global politics. Through the establishment of trade routes, the encounter with the 'New World', and the circulation of concepts and norms across global space, meaning making and social connections have unfolded through practices of translating. While translation is core to international relations it has been relatively neglected in the discipline of International Relations. The Politics of Translation in International Relations remedies this neglect to suggest an understanding of translation that transcends language to encompass a broad range of recurrent social and political practices. The volume provides a wide variety of case studies, including financial regulation, gender training programs, and grassroot movements. Contributors situate the politics of translation in the theoretical and methodological landscape of International Relations, encompassing feminist theory, de- and post-colonial theory, hermeneutics, post-structuralism, critical constructivism, semiotics, conceptual history, actor-network theory and translation studies. The Politics of Translation in International Relations furthers and intensifies a cross-disciplinary dialogue on how translation makes international relations.
Get the book here
Quantum Social Theory for Critical International Relations Theorists
Author: Michael Murphy
This book examines the crossroads of quantum and critical approaches to International Relations and argues that these approaches share a common project of uncovering complexity and uncertainty. The "quantum turn" in International Relations theory has produced a number of interesting insights into the complex ways in which our assumptions about the physics of the world around us can limit our understanding of social life. While critique is possible within a Newtonian social science, core assumptions of separability and determinism of classical physics impose limits on what is imaginable. The author argues that by adopting a quantum imaginary, social theory can move beyond its Newtonian limits, and explore two methods for quantizing conceptual models—translation and application. This book is the first introductory book to quantum social theory ideas specifically intended for an audience of critical International Relations.
Get the book here
Politics of Stigmatization
Author: Molly Krasnodebska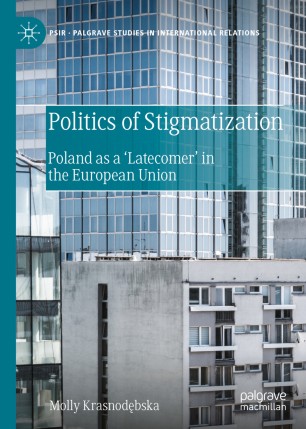 This book studies how the pursuit of becoming an established 'insider' in an international community shapes a state's foreign policy. It looks at Poland's response to three international crises that called for joint action of the EU and its members: the Iraq war of 2003, the Russo-Georgian war of 2008, and the Ukraine crisis beginning in 2013. The book develops the concept of strategic culture as a collection of historically informed narratives that guide a state's pursuit of ontological security, a basic sense of certainty about the state's role and place in the international environment. Building on this concept the author argues that Poland's behavior reflects the awareness of its stigma as a 'late arrival' in the EU, and more generally in the 'West' as an identity community. The study thus provides insight into how stigmatization and struggle for recognition shape international dynamics.
Get the book here